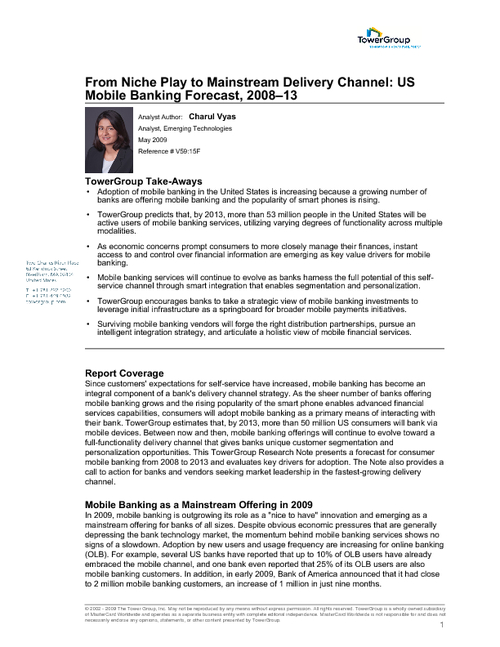 This published report, valued at $1750, can be downloaded for free compliments of VeriSign Messaging and Mobile Media.
TowerGroup Take-Aways
Adoption of mobile banking in the United States is increasing because a growing number of banks are offering mobile banking and the popularity of smart phones is rising.
TowerGroup predicts that, by 2013, more than 53 million people in the United States will be active users of mobile banking services, utilizing varying degrees of functionality across multiple modalities.


As economic concerns prompt consumers to more closely manage their finances, instant access to and control over financial information are emerging as key value drivers for mobile banking.


Mobile banking services will continue to evolve as banks harness the full potential of this self-service channel through smart integration that enables segmentation and personalization.


TowerGroup encourages banks to take a strategic view of mobile banking investments to leverage initial infrastructure as a springboard for broader mobile payments initiatives.


Surviving mobile banking vendors will forge the right distribution partnerships, pursue an intelligent integration strategy, and articulate a holistic view of mobile financial services.