Michigan Merges Physical, Digital Security Functions
State Creates Cybersecurity and Infrastructure Protection Unit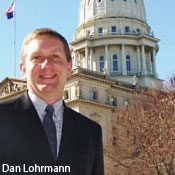 The state of Michigan is merging its physical and digital security functions into a new organization to be headed by state Chief Technology Office Dan Lohrmann, a former state chief information security officer.

Lohrmann, who will report to Chief Information Office David Behen, will hold the title of director of Cybersecurity and Infrastructure Protection, known as CIP.

John Nixon, director of the Department of Technology, Management and Budget that's home to CIP, said in a message to his colleagues that the merged operations should be finalized by Oct. 1. He said the key objectives of the merger include:
Establishing Michigan as a global leader in cyber awareness, training and citizen safety.
Providing state agencies and their employees with a single entity charged with the oversight of risk management and security issues associated with state assets, property, systems and networks.
Aiding in the development and implementation of a comprehensive security strategy for all state resources and infrastructure.
Improving efficiency within the department and provide combined focus on our emergency management efforts.
"We look forward to the development of the new Cybersecurity and Infrastructure Protection organization as a national model and resource," Nixon said.
Nixon last spring initiated a feasibility study merging the department's security functions, inviting employees of Security and Emergency Management and Office of Enterprise Security to provide their opinions and suggestions on the potential merger.